Dr. Anthony Fauci, Senators Sherrod Brown and Todd Young, and developers of pretomanid and the BPaL regimen honored at GHTC's Innovating for Impact Awards
Read time: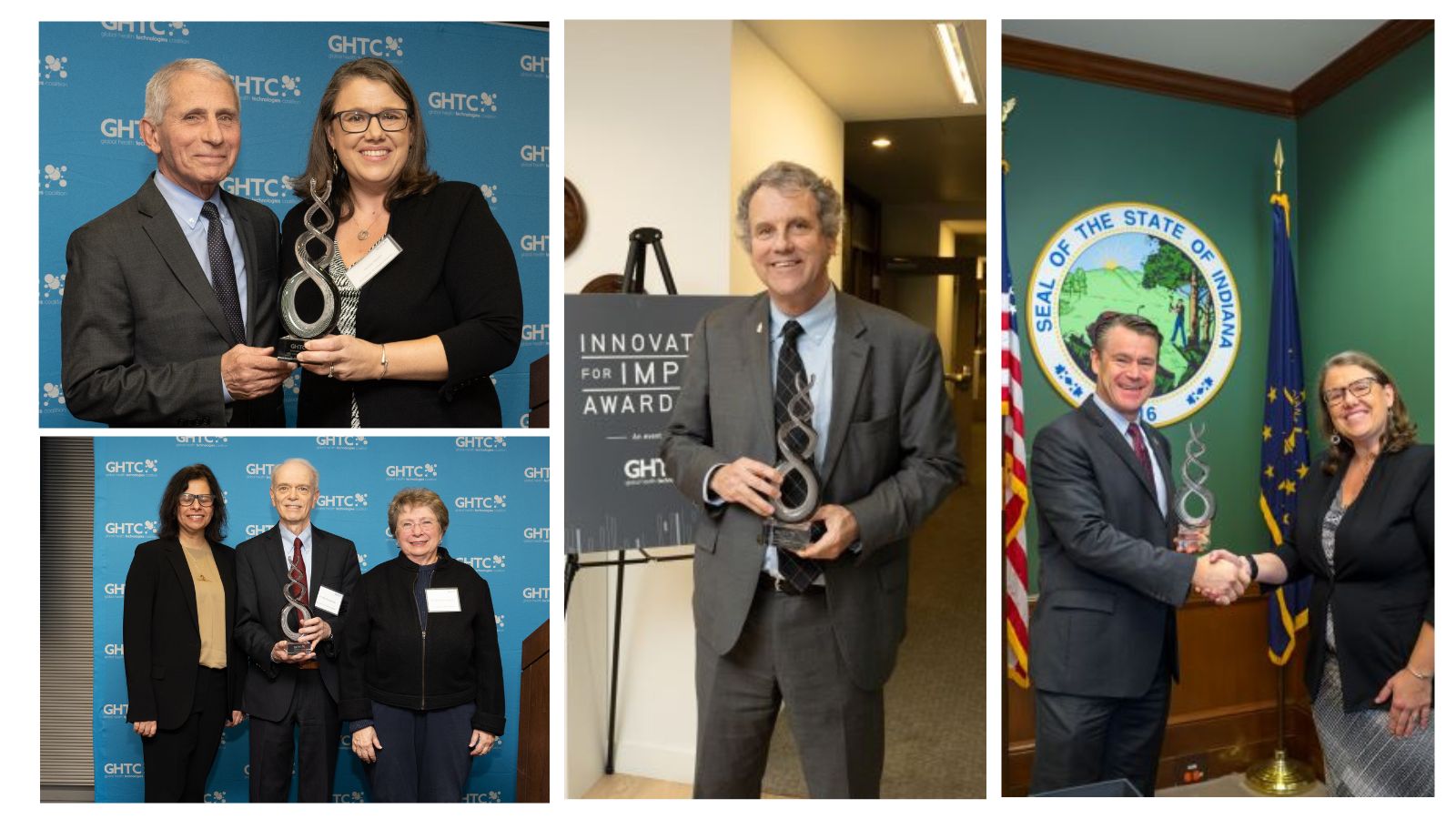 The Global Health Technologies Coalition (GHTC) yesterday honored Dr. Anthony Fauci, Senator Sherrod Brown (D-OH), and Senator Todd Young (R-IN) for their leadership in supporting global health research and development (R&D) at the 2022 Innovating for Impact Awards, an annual initiative recognizing US policymakers and partnerships catalyzing global health innovation. Additionally, GHTC recognized the partnership, led by TB Alliance, that developed the breakthrough technology pretomanid and the BPaL regimen—a shortened, simplified, and highly effective therapy for drug-resistant tuberculosis (DR-TB). This year's awards also coincided with GHTC's 15th anniversary—a period over which the global health community has seen incredible innovation and progress.
Dr. Anthony Fauci, director of the National Institute of Allergy and Infectious Diseases (NIAID) and the chief medical advisor to the President was honored with Innovating for Impact's first-ever Lifetime of Service Award for his extensive and wide-ranging contributions to advancing global health and global health research, including groundbreaking contributions to HIV/AIDS research that inform our understanding of the disease to this day, inspiring the creation of the US President's Emergency Plan for AIDS Relief (PEPFAR), leading NIAID for decades, confronting COVID-19 and previously generation-defining health threats, and advising no fewer than seven US presidents.
Dr. Fauci's remarks set the tone for the evening, as he acknowledged the power of partnership in tackling the global health challenges and what can be accomplished with effective collaborations. To underscore this, Dr. Fauci referenced the R&D response to the Covid-19 pandemic, noting "What we're experiencing now with Covid, I think is another really good example of how important it is for groups getting together in a coalition type fashion. And I'm talking about what was accomplished in an extraordinary manner with the development of vaccines for Covid-19. I mean, this could not have been done by any individual component of the coalitions."
Senator Sherrod Brown was honored with a Congressional Champion Award, celebrating his contributions to global health research policy, which include spearheading legislation that led to the Tropical Disease Priority Review Voucher Program that has incentivized the development of new, lifesaving global health technologies for more than 25 neglected diseases; encouraging President Obama to release the National Action Plan for Combating Multidrug-Resistant Tuberculosis; and sponsoring the Comprehensive TB Elimination and End Neglected Tropical Diseases Acts.
Senator Brown highlighted the tremendous impact commitments to public health have on the world and the key role the advocacy community plays in marshaling political support for global health innovation, "Public health lifts all boats…You do things right, everybody in society gains. And we all live longer, because of the emphasis on public health…We've made huge, huge progress as these awards tonight show, as your activism shows."
GHTC also recognized Senator Todd Young with a Congressional Champion Award. Senator Young has supported global health R&D through many pieces of legislation. He co-authored the Pioneering Antimicrobial Subscriptions To End Up surging Resistance Act to bolster the development of antimicrobial innovations for deadly pathogens and infections, introduced the End TB Now Act to support the development of new tools to combat tuberculosis (TB) through the United States Agency of International Development (USAID), and championed a call for innovative tools to end preventable child and maternal deaths through the introduction of the Reach Every Mother and Child Act.
In recorded remarks, Senator Young reiterated his commitment to global health technology innovation, stating, "I continue to support robust funding for medical research because sustained investments have enabled critical biomedical innovation and discovery and help to find new tar new treatments and cures fo global diseases."
GHTC presented the Partnership Award to TB Alliance for the development of pretomanid and the BPaL regimen—an innovative treatment for drug-resistant DR-TB. Dr. Mel Spigelman, president and chief executive officer of TB Alliance, accepted the award on behalf of the partners, and joining him on stage were Natasha Bilimoria, deputy assistant administrator of USAID, and Barbara Laughon, senior scientist for TB Drug Development Partnerships at the US National Institutes for Health, representing two key partners in the development of pretomanid.
Pretomanid is the first TB drug developed by a nonprofit organization. Pretomanid is part of the three-drug "BPaL" regimen. This innovative new therapy reduces the time needed to treat DR-TB from as long as 18 months or longer to 6 months and the number of pills comprising treatment by nearly 95 percent, all while significantly improving cure rates and toxicity profiles compared to the previous standards of care.
In a video exploring the development, benefits, and impacts of pretomanid and the BPaL regimen, Jayshree Rampiar, a DR-TB survivor treated with the regimen, noted, "Before [treatment] had a lot of side effects, and the medication I'm taking now has less. I feel that my future is looking bright, and we can beat TB!"
GHTC's executive director, Jamie Bay Nishi closed the event by reminding us that while there is so much excellent and encouraging progress to celebrate, we still do not have all the tools needed to fully overcome the formidable global health challenges now and on the horizon. Thus, we must continue to strengthen our efforts to ensure more transformative innovations are developed and reach those around the world who need them.
The Innovating for Impact Awards will continue to celebrate US commitment to global health R&D and honor the multisector partnerships and policymakers that drive the development of lifesaving technologies for global health challenges both old and new. We thank all those who support global health innovation. As Senator Sherrod Brown noted in his remarks, "None of this [progress] would have happened without the activism of so many of you around the world!"
Continue to follow the discussion—and celebration—on Twitter at the hashtag #Innovate4Health.