Why

Research & Development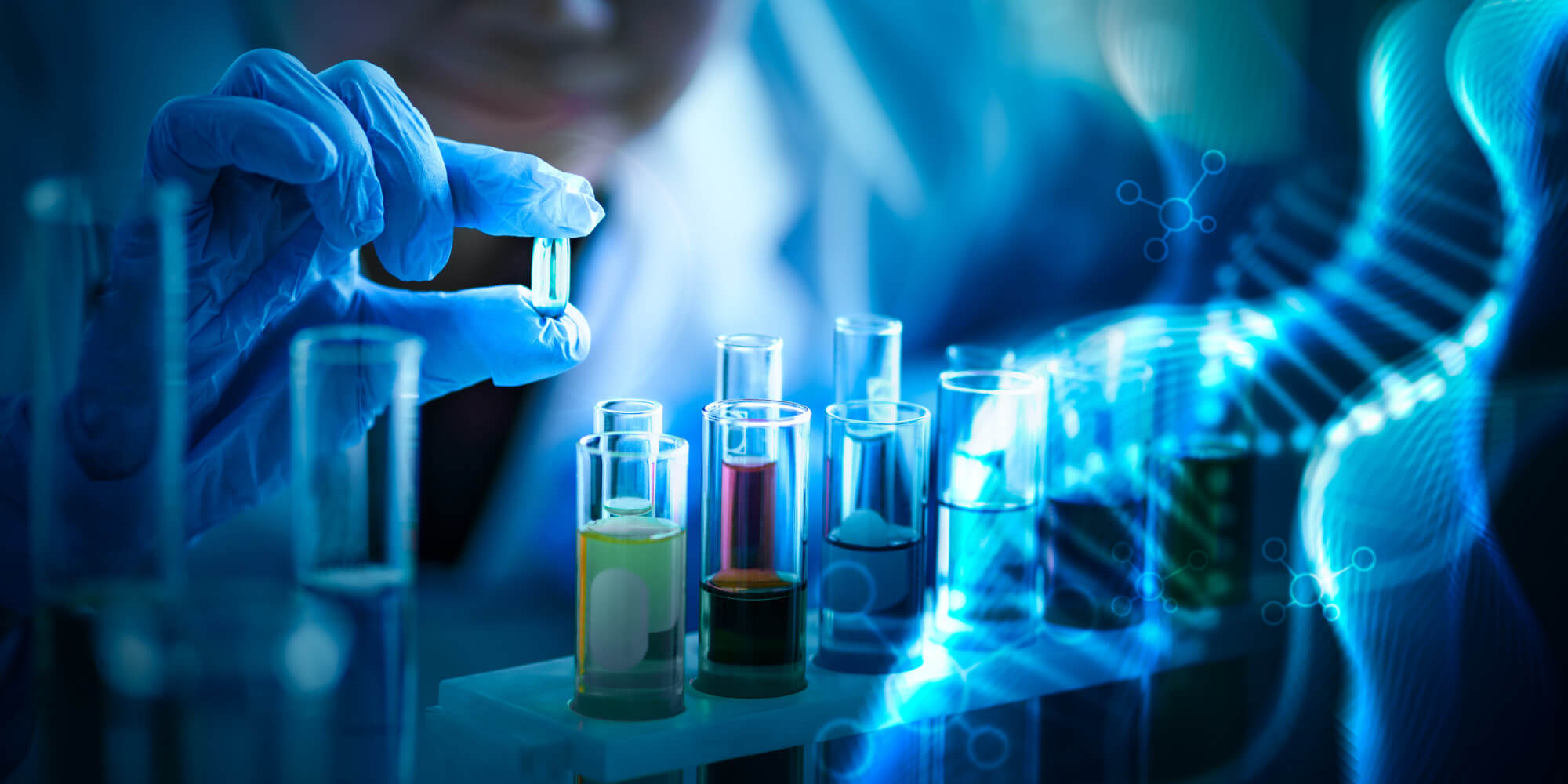 What

is R&D?

Research and development (R&D) is the translation of an idea or discovery into a product that addresses a health need. The result should be a safe and effective product that is appropriate, affordable, acceptable, and accessible to those who need it most.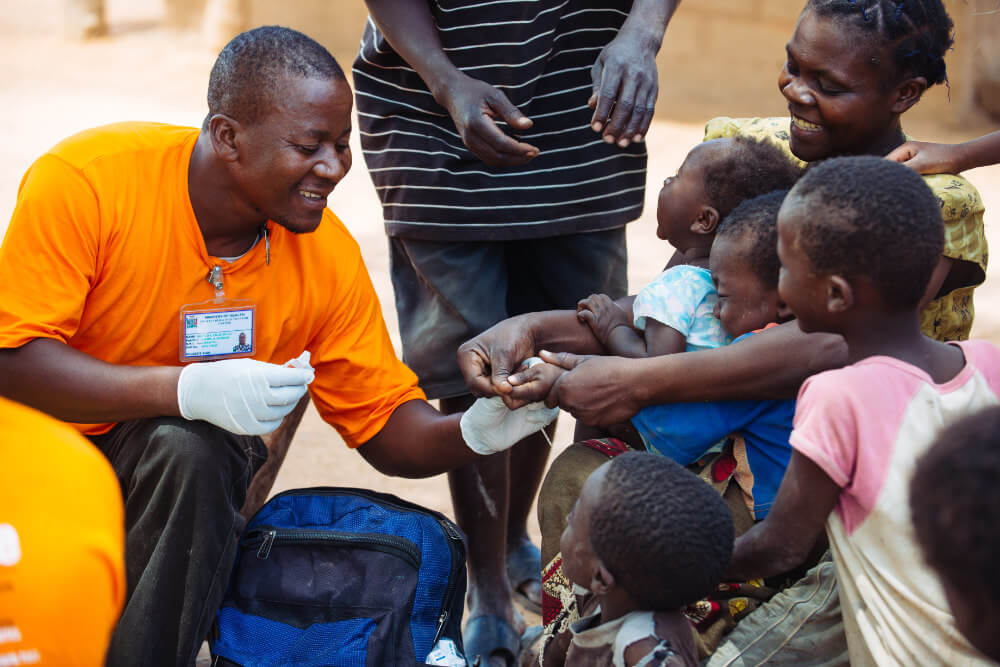 Why

do we need R&D?

Despite tremendous progress in global health, millions of people still suffer or die each year because we don't have the right technologies to combat many long-standing health challenges. And new health threats are emerging at a rapid pace. To ovecome these challenges, new drugs, vaccines, diagnostics, and other tools are needed.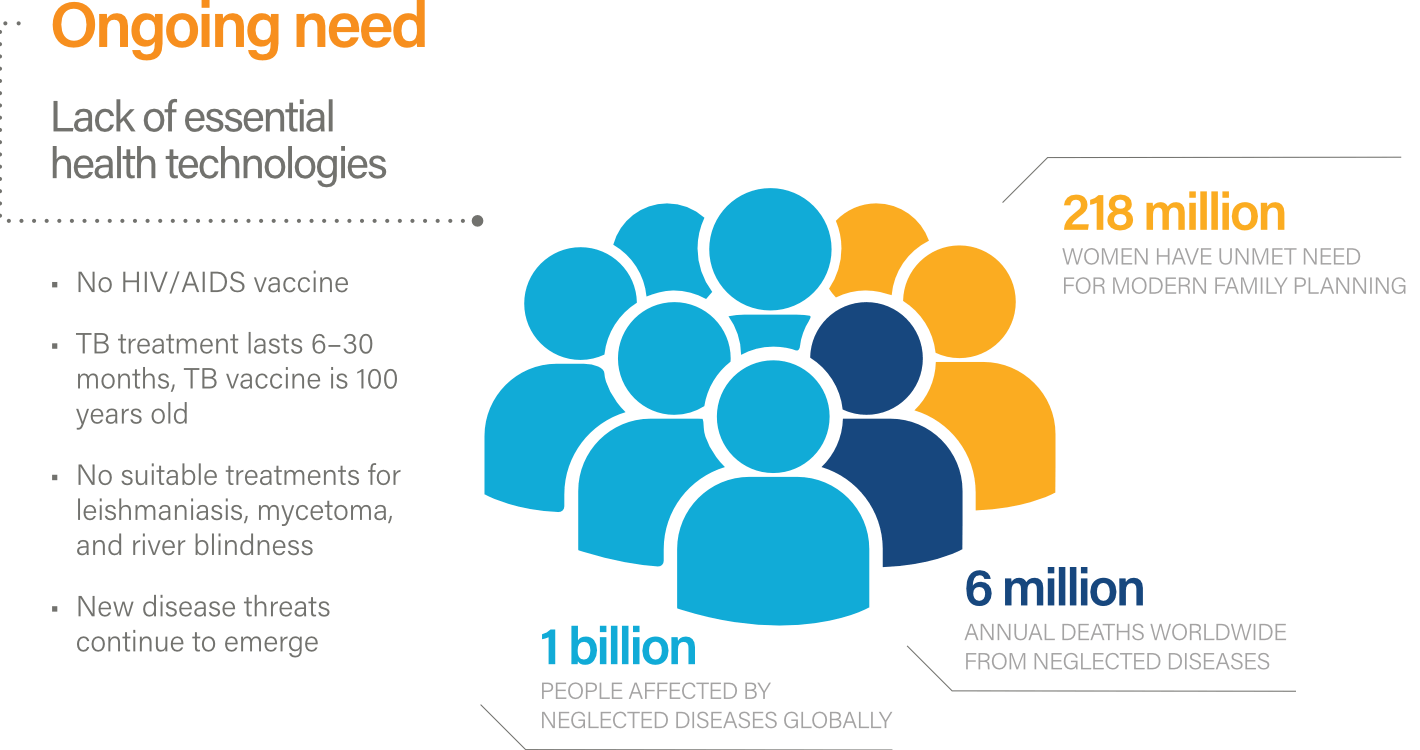 What

has R&D achieved?

R&D has been the bedrock of progress in global health. Technologies developed through R&D have improved the life expectancy of those living with HIV/AIDS, driven remarkable declines in child mortality, and nearly eradicated polio.

within reach thanks to polio vaccines

lives saved annually by vaccines

AIDS-related deaths averted since 2010 due to antiretroviral therapies
Why

is R&D a smart investment?

Global health R&D is an outcome multiplier. It not only saves and improves lives, but it also drives economic growth, saves costs, and improves health security.

A new child-friendly malaria medicine has saved 860,000 lives since its 2009 introduction.

A new treatment regimen for extensively drug-resistant TB had a cure rate of 90% in clinical trials, compared to prior treatments for which the rate was only 34%.

New formulations of the antiseptic chlorhexidine for umbilical cord care are projected to save more than 1 million babies by 2030.

$.89 of every dollar the US government invests in global health R&D goes to US-based researchers and €.80 of every euro of EU investment is spent within the EU.

Anti-malaria efforts are projected to provide $208.6 billion in net global economic gains by 2035.

US government investment in global health R&D from 2007-2015 generated an estimated 200,000 new US jobs and $33 billion in economic growth.

$26 million invested in polio vaccine R&D resulted in treatment cost savings of $180 billion since the 1950s.

Every $1 invested in HIV/AIDS vaccine R&D is expected to return between $2-67 in cost savings.

It cost $50 million to develop a low-cost meningitis A vaccine, which is estimated to have saved $9 billion in treatment and other costs between 2010 and 2020.

Without a vaccine or other tools to combat the 2014 Ebola outbreak, it claimed 11,000+ lives and cost the US $3 billion and cost the EU €1.2 billion to respond. Thanks to R&D efforts, we now have a vaccine.

Beyond saving countless lives, every $1 invested in the ACT Accelerator to develop and equitably deliver COVID-19 tools is projected to return up to $166 in economic benefit.

By 2050, antimicrobial resistance could lead to 10 million deaths annually and cost the global economy $100 trillion.
What

technologies are needed?

A diverse array of innovations is needed to prevent, diagnose, and treat the world's most pressing global health challenges.

There are many types of devices that improve global health. Examples include injection tools that make vaccine delivery safer and easier; reproductive health technologies that ensure healthy timing and spacing of pregnancy and safe delivery; and bednets and other vector-control innovations that prevent mosquito-borne diseases. To reach patients in every corner of the globe, devices must be designed to be affordable, reliable, and easy to use, including in places where infrastructure is limited, electricity is unreliable, and trained health workers are scarce.

The first step in treating a disease or condition is identification. But in many places, health workers lack the tools to make an accurate diagnosis, either because the right tool does not exist or because the tool is too costly or challenging to use in resource-limited settings. Continued innovation is needed to create affordable, portable, easy-to-use, and quick diagnostics that deliver reliable and valid results, so every patient can get the right treatment at the right time, every time.

Every day, millions of people suffer or die because they do not have access to the right medicine. For many diseases of poverty, either effective treatments do not exist or are too cumbersome, toxic, or expensive. For diseases such as tuberculosis and malaria, emerging drug resistance is also of growing concern—underscoring the need for continued drug innovation.

Microbicides are biomedical products that block the transmission of HIV and other sexually transmitted infections (STIs). They come in many forms, including gels, tablets, films, vaginal rings, or as part of multipurpose prevention technologies designed to both prevent STIs and provide contraception. Given women are particularly vulnerable to HIV infection due to biology and gender inequalities, safe and effective microbicides are needed to fill a critical gap in HIV prevention.

Malnutrition and micronutrient deficiency can increase a person's vulnerability to illness and impede intellectual development, robbing communities and nations of critical human capital and potential. An emerging field of nutrition science is studying new ways to improve nutrition through innovations such as biofortified crops with increased vitamin content, probiotic foods, and products that deliver nutritional supplements.

Vaccines are among the most effective public health interventions, not only saving lives but also saving significant costs for health systems. Vaccines have eliminated smallpox, put polio eradication within reach, and created an exit strategy for COVID-19—but there are still many diseases of poverty for which vaccines are poorly effective or have not yet been developed. Some are well known, such as HIV/AIDS and tuberculosis, while others are less familiar but still devastating worldwide, including Chagas disease and chikungunya.
What

does the R&D process look like?

The path from promising discovery to lifesaving technology involves multiple steps:
Identify Need
Understanding needs and challenges of end-users to inform research
Basic Research / Discovery
Uncovering insights into the biology of a disease and methods to address it
Preclinical Research
Translating discoveries into potential products and conducting lab testing
Clinical Research
Testing products for safety and efficacy in humans
Regulatory Review and Approval
Confirming the safety, efficacy, and quality of new products
Introduction & Scale
Launching and distributing products to meet global needs
Post-Approval Surveillance
Monitoring the ongoing safety, use, and effectiveness of products
Impact Achieved
Lives saved or improved / Health care costs reduced / Economic growth accelerated
View more details on the R&D process
Who

are the players?

Many different sectors and stakeholders contribute to the development of global health technologies.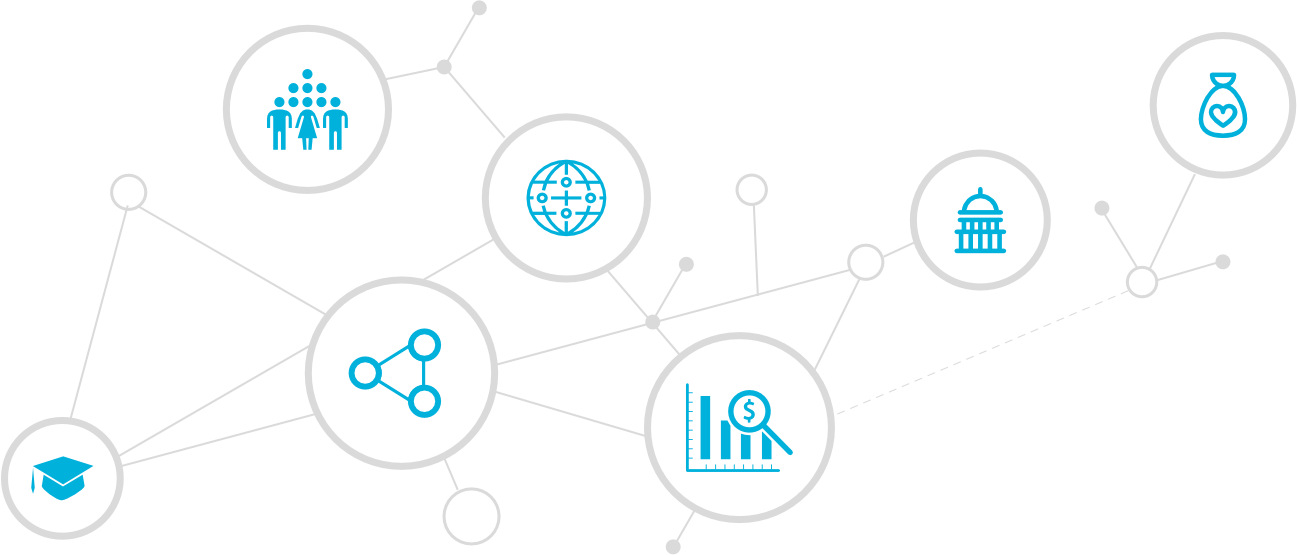 Conduct research to build foundational knowledge of diseases and conditions; advance product development, particularly at the early stage; and build an evidence base to inform R&D.
Engage in education or advocacy efforts to influence and advance R&D. Impacted communities help inform product design, development, and regulation and serve as critical partners in conducting clinical trials.
Directly fund R&D across all stages, particularly for diseases and conditions neglected by the private sector; enact policies to incentivize private-sector R&D; support R&D infrastructure and capacity-building; and oversee regulatory standards and processes.
Convene and coordinate nations around shared health R&D objectives; build an evidence base and provide technical assistance to other stakeholders engaged in health R&D; and set product efficacy and safety standards for global procurement bodies that purchase and distribute products.
Conducts R&D directly in cases where a profitable market exists for a product or contributes as part of product development partnerships.
Bring together resources and talent from the public, private, and philanthropic sectors to develop critically needed health technologies for diseases and conditions neglected by the private sector focusing on public health impact rather than profit. Also known as nonprofit product developers.
Fund R&D for diseases and conditions neglected by the private sector, as well as other supportive efforts, including education, advocacy, and research to build an evidence base.
What

are the challenges?

There are many obstacles throughout the process of developing new global health technologies.
Financing
Most challenging is the lack of traditional market incentive. Diseases and conditions that disproportionately impact the world's poorest places offer limited profit incentives to spur private-sector investments in R&D for new tools. Thus, sustained public-sector investment and philanthropic funding is critical to jump-start research and successfully move products through the R&D process.
Funding for neglected disease R&D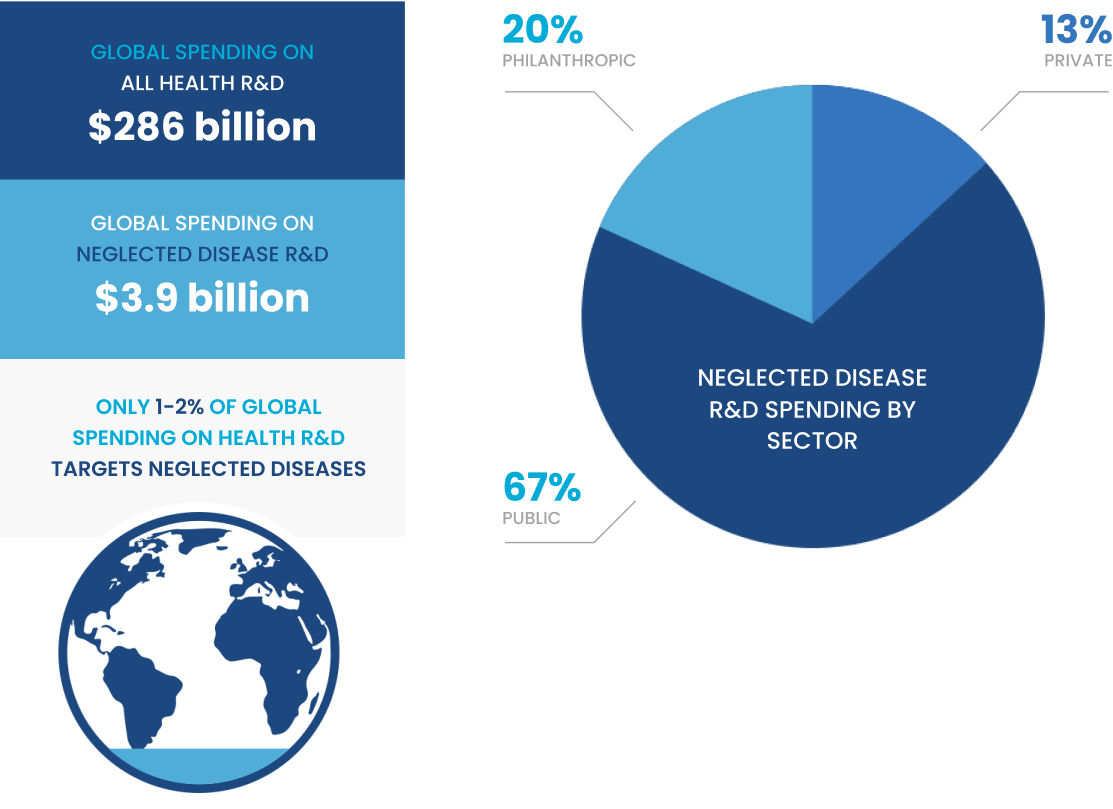 Designing for access
To reach people in need in every corner of the globe, products must be designed from the start to be fit-for-purpose for resource-limited settings. That means technologies should be affordable, easy to administer, and adapted for use in places without reliable electricity or infrastructure, and that early groundwork is laid to advance manufacturing and distribution approaches that will promote widespread availability.
4 "A"s to innovate for global access

Affordability
Will the product be available at a price low- and middle-income countries can afford?

Administration
How challenging is it to administer and what training is required of health workers?

Adaptability
Is it usable in settings without basic infrastructure, electricity, and equipment?

Availability
Can manufacturing and distribution mechanisms meet global need?
Capacity gaps
Under-resourced health systems in low- and middle-income countries (LMICs) can also increase the difficulty of conducting clinical trials. Additionally, limited staff and capacity at regulatory authorities, particularly in LMICs, can delay product review and approval, while different regulatory requirements across multiple countries can delay widespread product introduction. It can also be a challenge to secure local manufacturers that can produce products while meeting pricing, supply, and quality standards.
What

is GHTC's role?

The challenges for global health R&D are large, but not insurmountable. GHTC works with academia, advocates, civil society, governments, multilateral organizations, the private sector, product development partnerships, and philanthropic donors to catalyze new investment and advance policy solutions to dismantle these obstacles and accelerate the development of critically needed health technologies.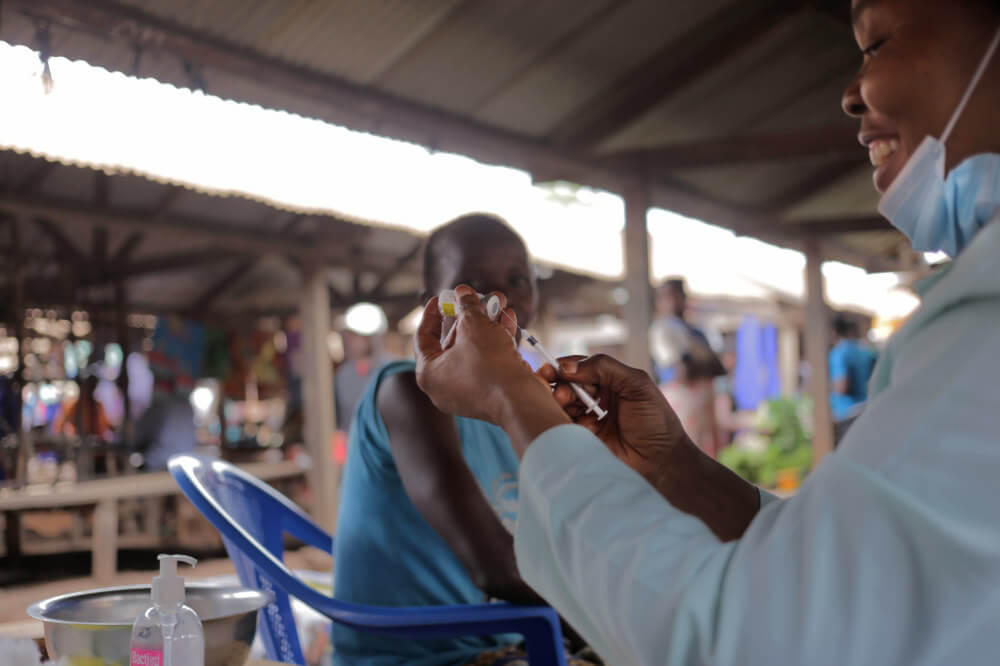 Join our membership
Find out about GHTC's membership options and the benefits of becoming a member.
Learn More
Stay updated
Find out about GHTC's membership options and the benefits of becoming a member.
Learn More